Everything You Need to Know about Bankpak's Deal Drawer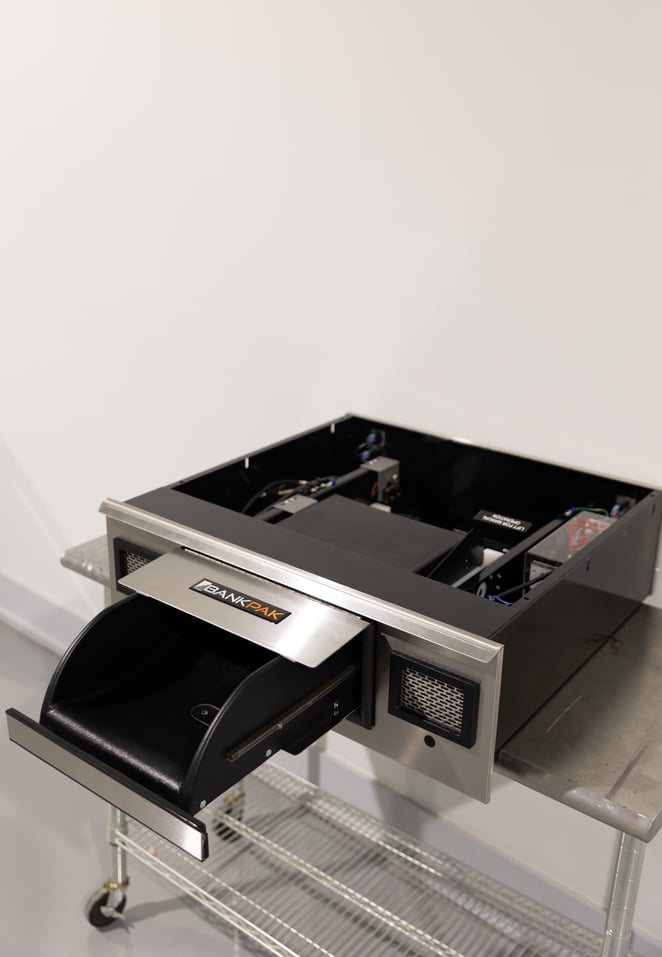 Bankpak has been manufacturing our own transaction drawer in-house for over 30 years.
Created and manufactured fully in the USA, Bankpak's transaction drawers can be fitted within any transaction window application. Built with our customer in mind, these drawers are constructed from stainless steel for long lasting durability and dependability.
Product Specifications
Because Bankpak's deal drawer is larger than most, it's able to pass more documents, creating a more efficient drive-thru customer experience. Its features include a removable black laminate countertop, a transaction holder, an automatic draft shield, a Level 1 bullet resistant stainless steel cabinet front and back and a molded "ABS" drawer. Some optional features include an audio system and thermostat controlled heater set at 110°. The Bankpak deal drawer is compatible with most audio systems.
Whether you're looking at a new installation, or replacing your existing deal drawer, there's a few considerations you need to take into account.
Installation Considerations
If you're doing a direct replacement of your existing deal drawer, you'll need to provide us with exact measurements, pictures and the model information of your existing drawer. If your deal drawer is smaller than our drawer, then we'll need to cut the wall material or make modifications to the existing structure. Important information that we'll need is the type of wall the drawer is built into, the current support structure of the drawer, and the kind of cabinetry that surrounds the current installation. You may also need to modify your current countertop, and we provide those services if needed!
For a new installation, you first need to determine where you'd like your drive thru, or if you have one existing, where you'd like your deal drawer placed. Our technicians are happy to assist with this planning if needed. After you've decided on a location for the drawer, you then need to determine if there are any existing utilities inside the wall that may need to be relocated (electrical, plumbing, etc). There are add-ons and specifications that can be selected during the sale, so make sure you speak to your sales representative about those options.
Fast & Competitive Service
Bankpak prides itself on our excellent customer service from start to finish, including product sales, delivery, and installation. We are a turnkey operation that can install a transaction drawer with audio to fit your needs.
Because our deal drawers are manufactured in-house, our lead times are immediate. As a standard rule, we keep our deal drawers in stock and can have them ready to ship the same day if ordered before noon CST. Compared to our competitors whose lead times are between 3 and 8 weeks, you can have your deal drawer at your service location within days!
Not only is our delivery time stellar, but our installation process is painless as well! Installations can generally be completed in one work day. We typically advise our customers to schedule installations on days when the drive thru traffic is slower.