TCRs: The Next Step in Branch Automation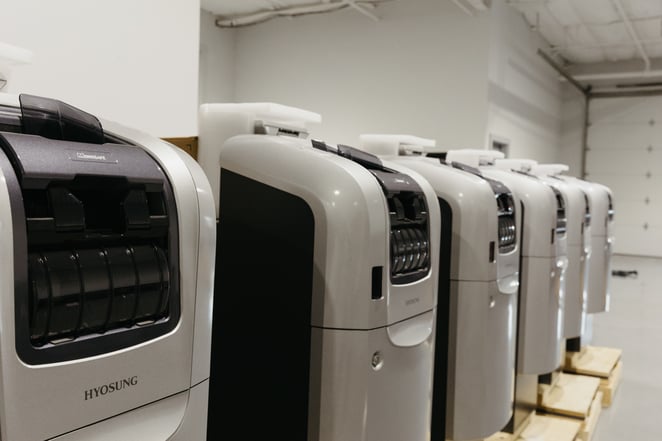 Are you looking to better automate your customers' banking experience by reducing transaction time? Teller Cash Recyclers (TCR) are the next step in branch automation, allowing your tellers to deliver better service to your account holders.
A TCR automatically counts, stores, and validates notes for both deposit and withdrawal operations, allowing tellers to quickly process cash transactions. With a 12,000 recycling note capacity, and the ability to process 8-12 notes per second, TCRs greatly reduces the time spent on each transaction, creating more time to serve customers needs and foster long lasting customer relationships.
Let's take a moment to weigh the pros and cons of investing in Teller Cash Recyclers over a traditional teller experience.
Pros
Protection Against Theft
Theft is one of the most obvious threats to financial institutions (FIs), however, TCRs act as a secure vault storage, protecting FIs against both internal and external theft threats. TCRs can hold multiple denominations reducing the need for secondary cash storage.
Increased Transaction Speed
TCR's sort, count and verify all the notes increasing the transaction speed giving your teller staff more time to interact with the customer in front of them, replacing transactions with interactions.
Quicker Open & Close Procedures
Gone are the days of counting notes and deposits, opening the cash drawer and other time-consuming administrative tasks tellers have to perform before opening and closing their teller stations. Tellers can easily save an hour worth of work by their FI investing in the efficiency of a Teller Cash Recycler.
Efficiency & Human Error Protection
Our research shows that Teller Cash Recyclers increase efficiency by 72%, saving more than 500 minutes in daily tasks including night drop, commercial and consumer cash transactions, buys/sells, CIT deliveries and more. Because TCRs sort, count and verify all the notes, it takes the responsibility off of the teller of ensuring accuracy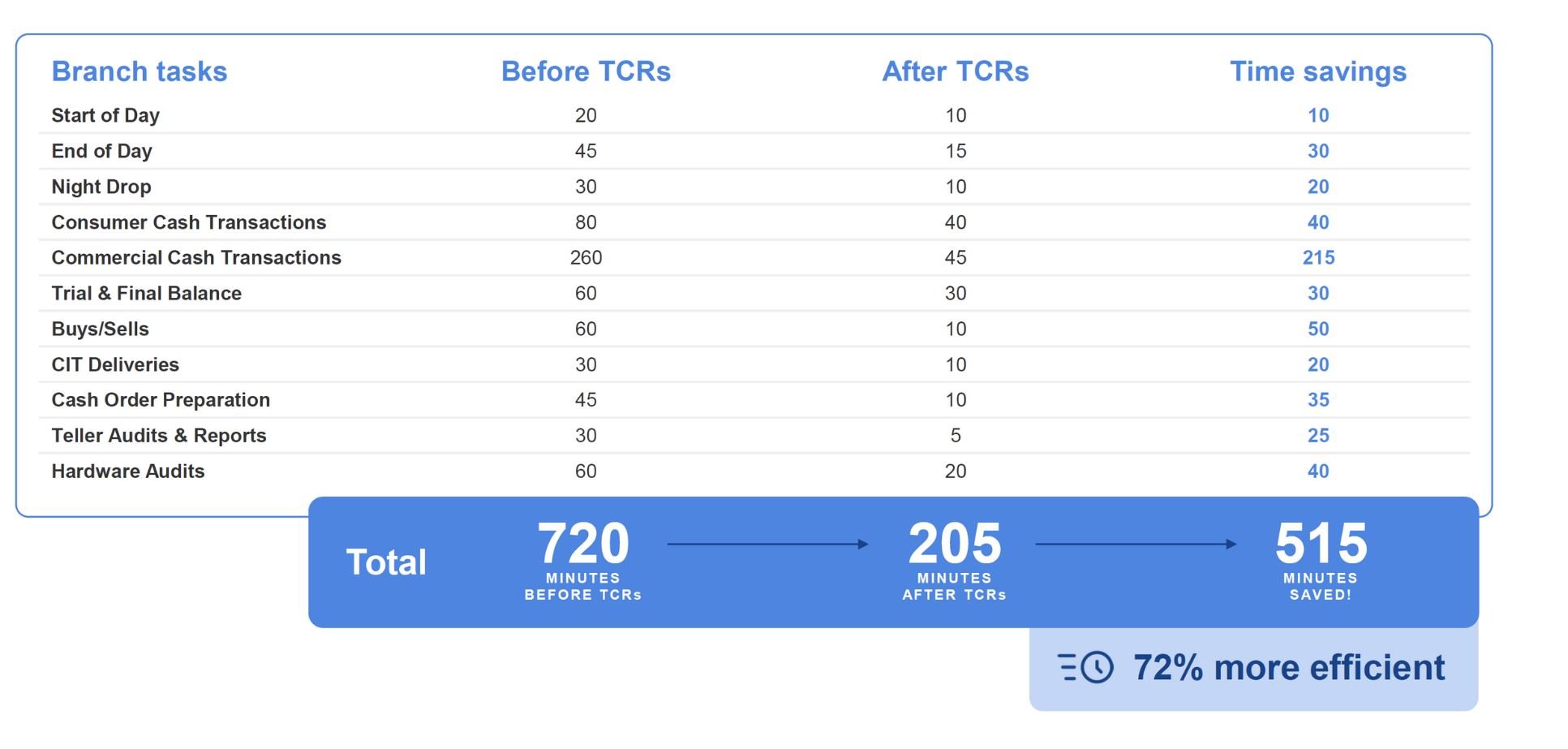 Cons
Bill Jams
When processing large deposits, bill jams can occur, but shouldn't be cause for complete concern. Bill jams occur from poor cash quality or dirty TCRs. This can be easily remedied by checking the quality of the cash before inserting into the machine and regularly cleaning the machine.
Regular Required Cleaning
Regular cleaning of your Teller Cash Recycler is required to keep your cash recycler running at peak performance and to make currency transportation to and from the recyclers safe and secure. If you fail to upkeep the cleanliness of your TCR, it can result in bill jams, stalls, and other halting mechanisms.
Potential Capacity Restraints
Ensuring that you've purchased a cash recycler that meets your volume requirements is crucial in providing efficiency gain for your financial institution. If you end up under sizing your recycler capacity, your staff can spend more time loading and unloading the recycler and defeating much of the time savings and efficiency associated in implementing cash recyclers.1
Conclusion
Let Bankpak assist your institution in implementing teller technology that you can help your turn transactions into interactions.
We have nearly 40 years of experience in providing the latest banking and security equipment for banks and credit unions, both large and small. Often, financial institutions are on the forefront of new technology implementation, and we can help provide the systems integration that will make your project come in on time and on budget.
By equipping each new branch and building with the latest technologies, our goal is to give your staff more time for top-tier, professional customer service.
If you need help navigating this process, or have any questions about Teller Cash Recyclers, contact us at Bankpak.com.
give your staff more time for top-tier, professional customer service.
If you need help navigating this process, or have any questions about the Interactive Teller Machine program, download our ITM Guide below.