4 Reasons to Use Security Software for Alarm and Access Control Systems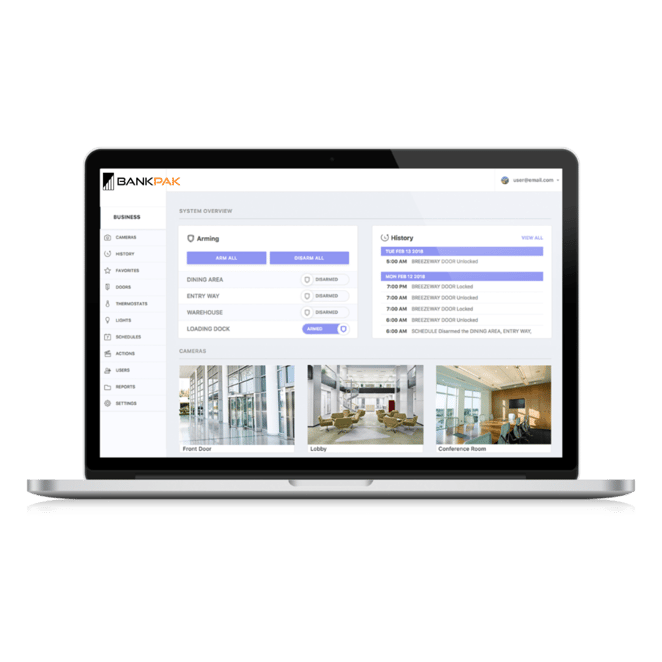 At Bankpak, we provide reliable security systems with user-friendly desktop and mobile applications to help you manage your systems efficiently. While we're the experts who install systems specifically for each application and customer need, we rely on user-friendly management software to ensure you have control of your systems anywhere, anytime.
Virtual Keypad is a web-based management software that integrates with access control and intrusion systems. It allows you to remotely manage your security and alarm systems on a tablet, computer, or smartphone anywhere with cell service or Wi-Fi.
Remotely Manage Your Security System with Ease
In this day and age, being able to manage your needs from anywhere at any time is no longer a luxury, it's a commodity in most industries. Many residential and home security systems allow you to remotely unlock your front door, chat with a delivery driver, turn off your interior or exterior lights, adjust your thermostat and more. Why should it be any different in your business?
Virtual Keypad allows users to easily manage their cellular-, network-, or Wi-Fi- connected security systems from anywhere. Administrators can manage one or multiple systems' arming functions, access control doors and every other feature they would normally use their keypad to control – all from one website or app.
If your location includes areas, Virtual Keypad allows users to protect certain areas while allowing access only to selected areas. This allows users to selectively arm, disarm or check the status of any area from your phone, computer or tablet.
Manage Multiple Systems from a Single Login
Through one single login, administrators can manage multiple facilities, streamlining your abilities at your fingertips. Virtual Keypad does this by offering a drop-down list of available systems and allowing you to select the one facility you'd like to configure.
For example, if you are the manager of five different branches of a financial institution, you can manage all five branches' systems from your fingertips, easily allowing access to all security cameras, access doors, and more.
This ties into our next point: the ability to manage system users, credentials, schedules, profiles, holiday dates and more.
Manage System Users, Credentials, Schedules, Profiles, Holiday Dates and More
With ease, administrators can manage more than just security systems with Virtual Keypad. As turnover, promotions, or shifts in job responsibility naturally occur, users can easily manage systems users, their credentials and access controls, allowing the changes to update immediately in the Virtual Keypad interface.
Users can also set access settings according to employee schedules, allowing for access only on days they are scheduled to work, as well as holiday dates, creating a seamless transition to a safer business environment while your staff is on vacation. In order to streamline arming and area arming and user access, users can add, edit or delete schedules inside Virtual Keypad.
Additionally, two-factor authentication can be added as an extra layer of security for individuals trying to log into their system.
Arm/Disarm, Control Lights, Locks, Cameras & More
In order to safely and quickly make decisions regarding a potential threat, Virtual Keypad uses enhanced video verification, alerting administrators to quickly make an assessment on whether an alarm trip is false or not.
Cameras can also be integrated and set to automatically record any motion detection for live video. Virtual Keypad allows for users to selectively monitor and view camera surveillance and even email clips, all in one easy-to-use platform.
Conclusion
Let Bankpak assist your institution in implementing cutting edge alarm systems and surveillance technology that you can manage from your fingertips.
We have nearly 40 years of experience in providing the latest banking and security equipment for banks and credit unions, both large and small. Often, financial institutions are on the forefront of new technology implementation, and we can help provide the systems integration that will make your project come in on time and on budget.
By equipping each new branch and building with the latest technologies, our goal is to give your staff more time for top-tier, professional customer service.
If you need help navigating this process, or have any questions about the alarm systems, CCTV surveillance, or Virtual Keypad, contact us at Bankpak.com.